The New York Times magazine released it's 9th annual
Year in Ideas
issue recently, a 2009 recap worth spending a few minutes reading. My favorite idea categories for the issue: culture, social science, and design among other more dry categories like politics.
Some of my favorite "top-notch" ideas of 2009:
Stilletto Claws
- 12 inch tall stiletto boots. Representing the "surrealist clothing" trend that hit runways and streets this year. Designer Alexander McQueen puts the gaudy fashion into perspective perfectly, "I don't think it makes sense to play safe in these times" "The world needs fantasy, not reality. We have enough reality today".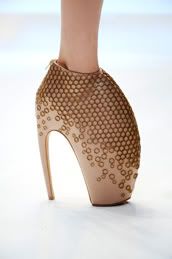 Photo: Don Ashby
Kickstarter
- a website that functions as an incredible tool for emerging artists. Think of it as a consultation with fans, the artists asking them the question, 'Would you pay for me to make this art?' Essentially artists propose an idea on the site, how much money they would need to complete such a project, and people pledge money until the amount requested is reached. If a monetary goal isn't reach, no one spends a penny. More than 1,000 projects are being raised for already ranging from, a diverse solo trip around the world ($8,124 raised) to a book by Scott Thomas documenting how he developed the graphic design behind Obama's campaign ($84,614) Not too shabby for the internet I'd say.
Illustration: Lauren Nassef
P.T.S.D. Treatment: Tetris
- Simplicity is the cure to our most complex of problems sometimes. Consider the fact that recent studies have proved that playing Tetris can significantly reduce the negative effects of P.T.S.D., like amount of visual flashbacks, for those who are suffering. Scientists award the effectiveness of the game's therapy to color vibrancy and it's ability to stimulate the visual cortex of the brain, leaving the rest of it to process the traumatic memories that sometimes resurface. "It was so simple, and it worked so beautifully" said Emily Holmes, who experimented with Tetris' therapeutic aspects. When in need of a P.T.S.D. vaccine next time allow your cognitive abilities to take over: manipulate gently falling bricks.
Illustration:Noma Bar
Check out the NYT Magazine for a full description on some of the
clever insights
you might have missed out on this year.